Make Code 39 Barcodes
Code 39 barcodes are a common barcode type, used in many different industries for inventory tracking, identification like attendee badges, and parts labeling for in-house tracking. Standard Code 39 barcodes can include uppercase letters, numbers, and the punctuation marks $ % + - . and /, and the space character. Full ASCII Code 39 barcodes can include upper- and lowercase letters, punctuation marks, and 'control characters' which are represented by sets of two Code 39 characters.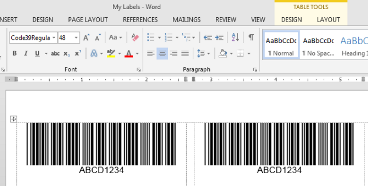 Make Code 39 and Code 39 full ASCII barcodes in Excel spreadsheets, SAP Crystal Reports and more. C39Tools comes with twenty-seven different Code 39 barcode fonts in TrueType and other formats, a barcode wizard to create barcodes one at a time, and add-ins to make and print barcodes in your favorite database, document, label or design application.
Our software has limited compatiblity with Microsoft Office programs on the Mac.
Operating System Requirements
Windows: Windows 10, Windows Server 2008 newer, (Windows 7 limited support)
Mac: OSX v10.2 and newer
Linux/UNIX: please contact us
---
Your satisfaction matters
All of our software comes with a full 30 day money-back guarantee and free technical support for life.