Free Barcode PDF
Barcodes are symbols, symbols with meaning. If you're going to the trouble of getting barcode ink, start with the best artwork possible.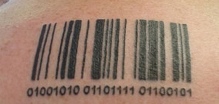 Email us the details about the barcode you want for your tattoo. The approximate size and shape, what you want it to say - name, date, word(s) - etc. Barcodes can hold short chunks of text or numbers, for this purpose no more than about twelve characters.
Will my tattoo scan?
That depends on a number of factors, in particular the skill of your tattoo artist in exactly replicating the lines & spaces of the barcode design. Also important: barcode scanners read barcodes via the reflective differences between dark bars and a light background; if you're dark-skinned, that reduces the likelihood of your barcode tattoo being scannable. So we can't make any guarantees about the results but we'll do our very best when creating your artwork.
Check, Double-check, Triple-check
We encourage everyone to double check the barcode artwork themselves. Print it out at highest quality, then scan it to make sure it says what you want. Most smartphone app stores have free barcode scanning apps, and some phones even come with them preinstalled.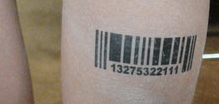 Odd, but true: all Azalea staff members are inked, yet none of us has a barcode tattoo. Go figure! And for those of you who've asked about thanking us, you can always contribute to our coffee & beer fund through PayPal.